Key Features of the Education System
BiH consists of two entities (Republika Srpska and Federation of BiH) and Brcko district of BiH.
The education sector in Bosnia and Herzegovina reflects the state constitution. It is defined by the BiH Constitution, the constitutions of the entities, cantons, and the Statute of Brčko District of BiH, which govern legal competencies in education.
In accordance with that there are twelve responsable institutions of education in BiH:
Republika Srpska has a centralized government and one ministry of education. Federation of BiH has a decentralized government and consists of ten cantons where each canton has their own ministry of education.  Federal Ministry of Education and Science has only a coordinative role.  Brcko district of BiH has a government with departments. One of those department is The Department for Education.
There are also two others ministries with coordinating role:
The Federal Ministry of Education and Science (Federalno ministarstvo obrazovanja i nauke) coordinates, among other things, activities within the Federation of BiH, between ten cantons.
On a state level, there is The Ministry of Civil Affairs of BiH –MoCA (Ministarstvo civilnih poslova BiH), established with a role to coordinates activities within all education institutions in BiH. In accordance to the law, MoCA is responsible for carrying out activities and tasks within the jurisdiction of BiH related to defining basic principles of coordination of activities, harmonization of plans of entity bodies and defining strategy at the international level, including, among others, education.
On a state level, there are also:
The bodies for the coordination of the education sector have also been formed including the Conference of Ministers of Education in BiH and the Council for General Education in BiH.
The Rectors' Conference of Bosnia and Herzegovina has also been established and it defines and represents the common interests of universities in Bosnia and Herzegovina, cooperates with education institutions in Bosnia and Herzegovina and acts as an advisory body for the implementation of the reform of higher education.
In BiH, there are three constituent peoples and three official languages: Bosnian, Croatian and Serbian. They are taught in a school as a mother tongue.
Stages of the Education system
Preschool education and care
Preschool education and care (Predškolsko obrazovanje i vaspitanje) is intended for children from 6 months old until they start with primary education. It comprises three levels: nursery (for children from 6 months to 3 years old), kindergarten (for children from 3 years to 6 years old) and preschool preparatory programme. in the year before starting school the preschool preparatory programme has implemented and it's first part of compulsory education. This programm attend children between 5 ½ and 6 ½ years old.
Primary education
Primary education (Osnovno obrazovanje) is compulsory and it lasts 9 years, divided into three cycles/triad  (Triad 1: 1st to 3rd grade; Triad 2: 4th to 6th grade and Triad 3: 7th to 9th grade). Compulsory education begins in the calendar year in which the child is 6 years old by April 1. Public primary education is free and the only admission criterion is the age – all children have to be enrolled in primary school between 5 ½ and 6 ½ years old. 
Secondary education
Secondary education is available to everyone under equal conditions, in line with law and ability of an individual. Secondary education is not compulsory.
Secondary education (Srednje obrazovanje) is available in forms of general secondary education schools (grammar schools), vocational secondary education schools, art schools and other, less frequent types. General secondary education lasts 4 years and vocational secondary education lasts 3 or 4 years. Students are usually 15 years old when they enter secondary education and they are admitted to schools on the basis of primary school achievements and final exam results.
Higher education
Higher education (Visoko obrazovanje) in BiH is organized in three cycles.The first cycle leads to the academic title of completed undergraduate studies [the degree of Bachelor] or equivalent, obtained after a minimum of three and a maximum of four years of full time study. Precondition sor enter is certificate of completion of secondary education, and it is evaluated with at least 180 or 240 ECTS credits. Exceptions are integrated studies of medical science group in the first cycle, which are valued up to 360 ECTS credits.The second cycle leads to the academic title of Master or equivalent, obtained after completing undergraduate studies, lasting one or two years, and it is evaluated with 60 or 120 credits, and the sum with the first cycle is 300 ECTS credits, andThe third cycle leading to a doctoral degree or equivalent, last three years and it is valued at 180 credits.
One semester is evaluated with 30 credits in each cycle.
Youth and adult education
Youth and adult education (Mladi i obrazovanje odraslih) can be formal, non-formal and informal learning. Legal provisions that entitle to continuing adult education define this area as part of a unified education system.
Adult education aims at:
achieving the least basic education
training for the employment of adults who have not completed formal education
facilitating education and training, or the possibility of additional qualification, pre-qualification and continuing vocational training throughout the service and
enabling education and acquisition of knowledge and skills that correspond to personal abilities, affinity, and the life of an individual
For further information, please consult the introduction articles on mentioned topics.
Structure of the National Education System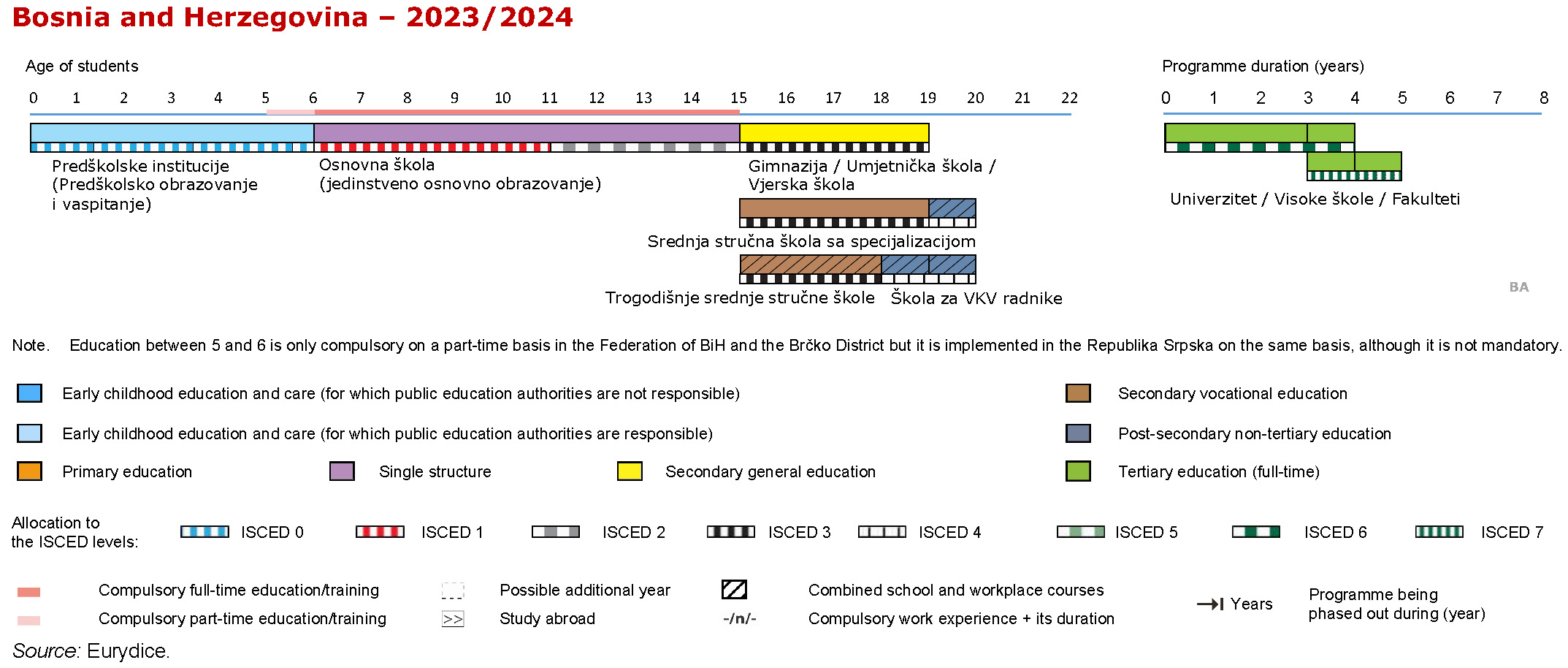 Common European Reference Tools Provided by the Eurydice Network