Demographic Situation
Malta covers just over 316 km and for statistical purposes is divided into 6 districts : Northern Harbour District, Western District, Northern District, South Eastern District, Southern Harbour  and Gozo and Comino District. 
The estimated total population of Malta and Gozo according to the Census of Population and Housing 2021 – Preliminary report stood at  519,562, marking a 30.4% increase over 2000 as reported by the United Nations (see Figure 1). Males comprise just under 52% of the population. Persons under the age of 18 made up 15.9 per cent of the total population, while a further 18.8% were aged 65 years and over (see Figure 2). The population of Malta accounts for 0.1 per cent of the total population of the EU. 
Figure 1: Total Population as of 1st January 2000-2020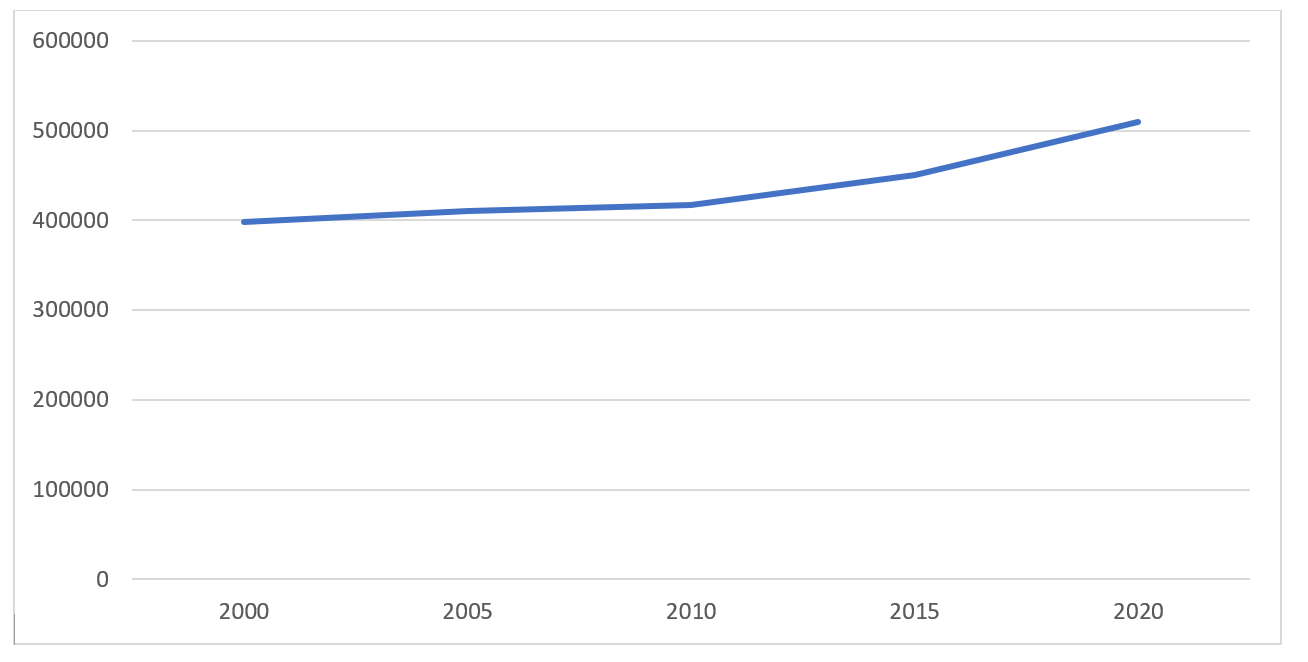 Source: United Nations
Figure 2: Total population by age group and sex as at 31 December 2020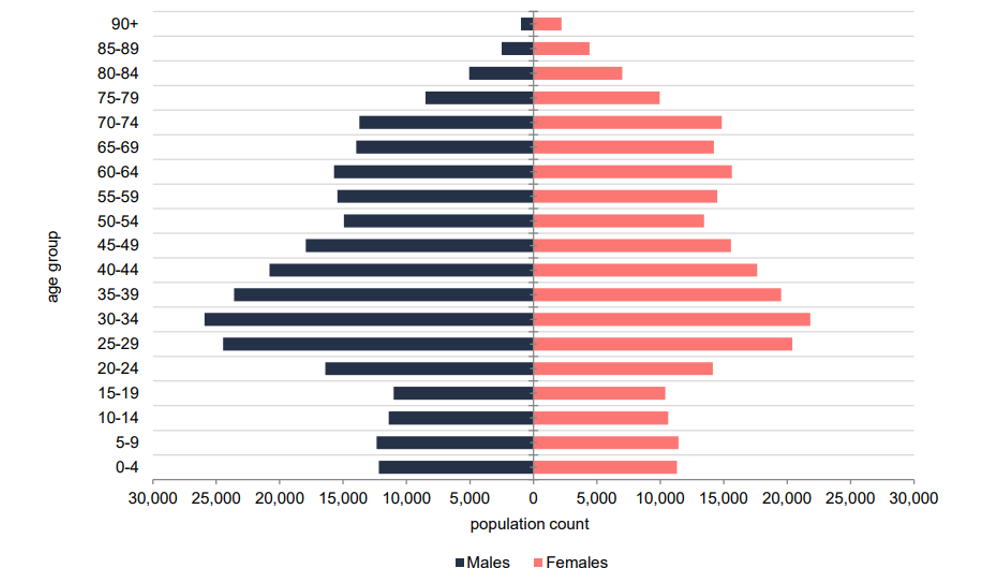 Source: National Statistics Office (2021)
Malta experienced a constant increase in immigration. In 2020 immigration stood at 13,885 persons marking a 69% increase over 2010, while 12,679 persons emigrated. The upward shift in immigration is also reflected in foreign nationals' participation of education. During academic year 2020/21, foreigners accounted for 13.9% of the school population (includes kindergarten and compulsory education), a 2.8% increase over 2019/20, wherein 59.7% of foreign students were Non-EU nationals (National Statistics Office Malta, 2022).
The national employment rate (for people aged 20-64) in 2021 was 78.6 % (EU27 average: 73.1%), while the female employment rate was 69.6% (EU 27 average: 67.7%). Comparing 2021 to 2012, there was a considerable increase in both the national employment rate and the national female employment rate, which increased by 14.7% and 21.6% respectively in the reference period. The national unemployment rate (for people aged 20-64) in 2021 stood at 3.3%, well below the EU 28 average of 6.8%.
Figure 3: Employment and Unemployment Rates (%) by Gender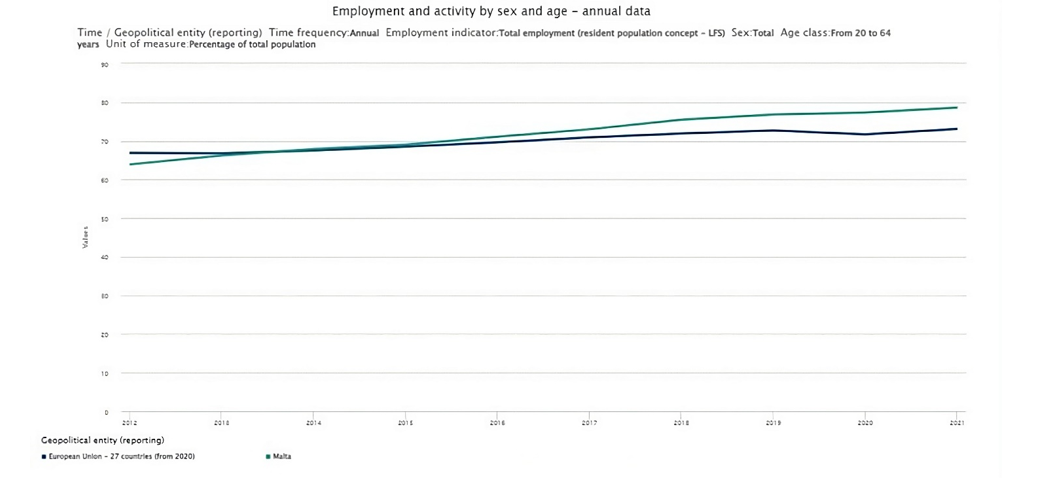 Source: Eurostat
Source: Eurostat
Languages
Article 5.1 of the Constitution of Malta establishes Maltese as Malta's national  language, while article 5.2 declares that  the  Maltese  and  the  English  languages  and  such  other language as may be prescribed by Parliament (by a law passed by not less than two-thirds of all the members of the House of Representatives) shall be the official languages of Malta and the Administration may for all official purposes use any of such languages". Instruction in schools is generally delivered in Maltese and English languages.
Religions
Article 2.1 of the Constitution of Malta states that the Roman Catholic Apostolic Religion is the religion of Malta. Furthermore, article  40.1 gives the right to all  persons  in  Malta  for full freedom of conscience and of their respective mode of religious worship. 83% of the Maltese population is considered Roman Catholic (European Union, 2019).
Article 2.2 of the Constitution of Malta states that "Religious teaching of the Roman Catholic Apostolic Faith shall be provided in all State schools as part of compulsory education". Notwithstanding this, students in all state and some independent schools offer children a choice between Religion (which is mainly based on Roman Catholicism) and Ethics (the curriculum  of which is aligned to shared universal values and rational autonomy). The latter was first introduced as a pilot project in scholastic year 2014-2015 in four state schools to cater for an increasingly religious and culturaly diverse schools. 
Catholic faith had a significant impact on Malta's education system starting from the middle ages, with among others the tuition of Latin, Italan and numeracy to children of affluent families, and the development of the Universita` considered to have been the first 'public school' in Malta. In 2022, there were 43 Church schools, offering a Catholic education in line with the Maltese National Curriculum Framework. Following agreements signed in 1985 and in 1991 between the Maltese Government and the Holy See, the government funds the salaries of teachers in church schools, against free tuition fees (kindergarten to secondary level). In school year 2020/2021, 28% of all students in formal education (including kindergarten) attended  schools run by the Archidiocese of Malta (National Statistics Office Malta, 2022). 
There is also one independent, charitable and non-profit making kindergarten and primary school founded by the Muslim community on the premises of the Islamic Centre. The school follows the Maltese National Curriculum while providing a solid Islamic Education programme. Islam is the most popular non-Christian religion in Malta, with believers comprising 2% of the population (European Union, 2021).