School education
In Luxembourg, there are three types of alternatives to public schools:
Private schools applying the national curricula and syllabi (denominational schools)
Private schools applying their own curricula and syllabi
International schools.
The website of the Ministry of Education informs about the different types of schooling. It also refers to a list of primary and secondary private and international schools.
Private schools, whether or not applying national curricula, receive State subsidies. These are however calculated in different ways.
In order to be eligible for financing, the institutions have to comply with the requirements set out in the modified law of 13 June 2003 (loi modifié du 13 juin 2003) on the relations between the State and private education. In particular, they have to respect certain requirements concerning educational staff. They also have to provide financial accounts and all necessary information on the implementation of the agreement signed with the State. Private schools are subjected to educational inspection by the national authorities. Parents contribute to the private school's costs.
Private international schools have a different status. They don't receive subsidies, nor are they subjected to official educational inspection.
In Luxembourg, student enrolment in private institutions is statistically low (11.4 % of all students at the beginning of school year 2021/22). The large majority of pupils attend public schools.
In comparison (school year 2021/22):

(Source: MENJE, Education system in Luxembourg - Key figures (school year 2021/22))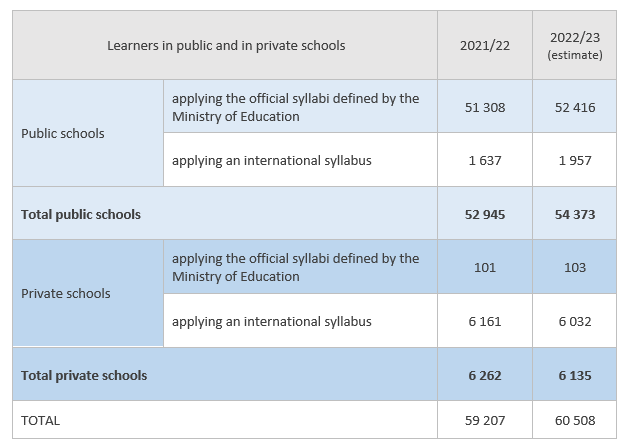 (Source: MENJE, School year figures 2022/23) 
European schools represent a special category. They are organised under the statute of official educational establishments controlled jointly by the governments of the EU member States. Their facilities and furniture are offered by the State; the teachers are seconded by the member States' governments.
Information on the international education provision in Luxembourg, both private and public, can be found on the website of the Ministry of Education, including links to the schools' details.
Higher education
School education and adult education are the only grant-aided sectors in Luxembourg. Private and foreign higher education institutions are not subsidised by the State.
Adult education
In the sector of adult education, there is a large number of private providers with very different specialisations. The Department of Adult Education (Service de la Formation des Adultes) of the Ministry of Education publishes a catalogue with training offers and training organisations, which gives an outline of the number and variety of these providers.