Political situation

Politically speaking, the Federal Assembly is divided not into parties, but into parliamentary groups. The groups comprise members of the same party or of similarly-platformed parties. A parliamentary group is therefore not necessarily always the same as a party. At least five members from the same Council are needed to form a parliamentary group. Only informal groups exist in the Council of States. Following the parliamentary elections (National Council and Council of States elections) in autumn 2019, the following parliamentary groups belong to the Federal Assembly: Swiss People's Party (SVP), Social Democrats (SP); The Centre Group. CVP-EVP-BDP (Christian Democratic People's Party, Evangelical People's Party, Conservative Democratic Party), FDP. The Liberal group, Green group and Green liberal group. 
Following the parliamentary elections in autumn 2019, the proportion of women was 42% in the National Council and 26% in the Council of States.
The four parties with most votes make up the government (concordance democracy). The executive power currently consists of two members each from the Swiss People's Party, the Social Democrats and the FDP, and one member from the CVP. The Federal Council currently comprises three women (one each from the Social Democrats, the FDP and the CVP), and four men.
Source:
Federal Statistical Office (FSO): Politics
Economic situation
Gross domestic product (GDP) measures the total value of all goods and products that a country generates within a year. In Switzerland GDP in 2018 was just under CHF 690 billion. This was an increase of 2.8% at the previous year's prices. The strong growth was characterised by a favourable market environment with a significant recovery in foreign trade and strong dynamics in the manufacturing industry. Gross national income (GNI) at current prices increased by 5.0% due to an improved balance of income with countries abroad.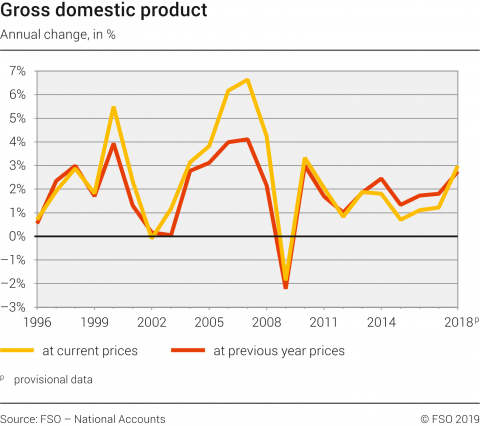 Public expenditure on education totalled CHF 37.2 billion in 2016 (€ 34.1 billion).
This amount represents 17.5% of total public expenditure and 5.6% of the gross domestic product.
Source:
Federal Statistical Office (FSO): Gross Domestic Product
Federal Statistical Office (FSO): Public education expenditure
Educational attainment
The educational differences between the sexes have diminished over time. The proportion of people without post-compulsory education has fallen, especially among women. The latter now attend tertiary level professional education more often than in the past. For both sexes, the proportion of people with higher education has increased significantly. In the 25-34 age group, the proportion of women with a degree from a university or a university of applied sciences is higher than that of men.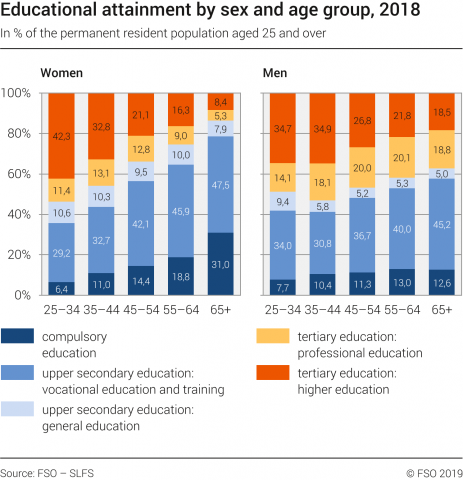 Source:
Federal Statistical Office (FSO): Educational attainment